In an odd year of poor weather, there was an odd-ball that has piqued my interest.
Since I started growing Terhune tomatoes some years ago, from every large flat of starter plants, there has been the occasional regular leaf plant, as opposed to the potato leaf that typifies the Terhune.
I always had discarded the plant, simply because it was off-type.
Carolyn Male, author of 100 Tomatoes For The American Garden, encouraged me to let one of them live, so I took the sole regular leaf one and plopped it into a pot I had grown eggplant in last year, without adding any new potting soil or amendments.  All it got for the summer was water.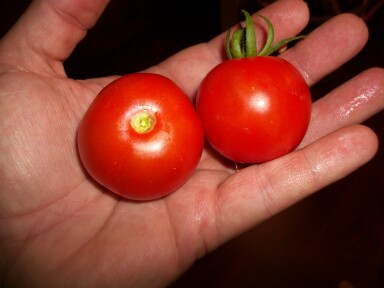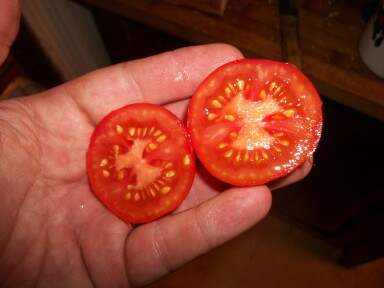 It actually produced quite a few tomatoes.  Very sweet and thin skinned, like the ordinary Terhune, with less of a meaty consistency,  and instead of huge tomatoes, there were clusters of 4 to 6 tomatoes that were only about 3 ounces each.  Now, I have to admit, whenever I do this to a tomato plant, putting it into a smaller pot of worn soil, the tomato production tends to be limited and the fruits a bit stunted.  I really only do it to isolate and create seed so I can do a larger planting the next year.  Even if it does only give me tomatoes of this size though, as long as it is true to the parent, it should be a prodigious producer of what were very tasty tomatoes.
Of course there is the chance that it will be some oddball F2 hybrid created by the limited growing spaces of my yard and the children of this plant will be nothing like the parent plant, but we will have to wait and see.  The season is drawing to a close.  Half of my gardens have frozen out and only the Minnetonka garden and here on the island do I have any tomato plants still alive.  Few plants are going strong any more due to neglect and weather stresses, and of the 400 or so original plans in the ground, only perhaps 60 are still alive.  This one though, this one I am looking forward to seeing what it does next year.