In an absolutely shitty year for winter squash, where cold, wet, rot, and squash bugs ruled the gardens, this squash, and only this squash, did well for us.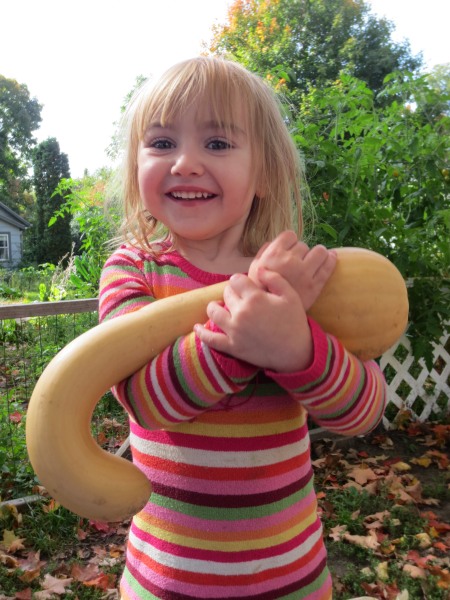 This is one I bred, and then named after Violet was born, for short seasons, bushing (short) vines, and short season.  These were planted in mid-June after torrential rains and cold rotted out my first squash plantings.  We had a 60 day summer.  Not frost to frost, but nights starting to be over 60 degrees, to when they fell back back and did frost.  The frost killed most, but not all of the squash vines (I posted a photo of frosted vines still flowering) but we had a good harvest of them.  In hindsight, I should have planted even more than 2/3 of my hills with these squash.  No extras this year.  The Ness family, who planted 30 hills, of a huge variety of squashes, got zilch, so I am splitting what I harvested up with them (least I can do for them letting me use their land) but it leaves us with enough for the winter, and we are still eating fresh (they store that well) ones from last year.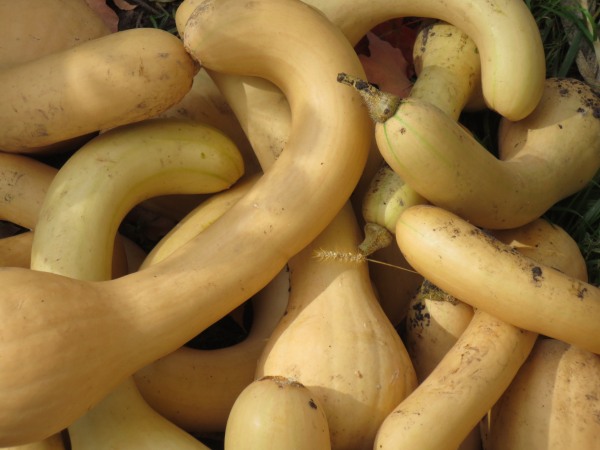 Maybe next year I will grow it in quantity enough to actually offer seeds commercially somewhere.  We will see.  As it is, we have a nice pile of squashes finishing curing in the front yard in the sun until a serious freeze threatens us here on the island.
This squash is my solution to the Pennsylvania Dutch Crookneck C. Mochata squash, which is a 120 day squash and can only be grown here when spring comes early, fall frosts are late, and you have an ideal summer.  These squash may smaller, but with easy maturity in a cool summer more than a month earlier, coupled with the ability to store fresh for over a year, we are happy.