We are a Minnesota family who wants to bring the aspect of "growing it yourself" and lessening dependence on systems you have no control over, back into everyday life for as many people as possible. We have divorced ourselves from the commercial food system, while still maintaining regular full-time employment and raising our own kids. We would like to position ourselves as best as we possibly can to help others do the same. Up until now it has been mostly about just growing food. All of the things we grow are open-pollinated, and over the years we have increased our production to the point where we can share seeds with others and show people how buying seeds can (and should) be a one-time investment in a lifetime of food. Plants are good at making seeds. There is little reason to have to buy it again if you know how to save them. The world will feed you if you let it.
I spent the last few years researching foods native and historically grown in our area (South-Eastern Minnesota), as well as newer crops most suited to growing here, and for hand cultivation. In 2010 we doubled our garden areas, and did 4 gardens, totaling more than an acre. Between our home-based, suburban micro farm on our 50'x150′ city lot, another shared suburban garden, and two farm gardens, we grew enough to, for all practical purposes, take ourselves off of the food grid. This is done in the evenings and on weekends. Enough food for a family of 5 or 6, for more than a year, and tons we give away as well. We grow dry corns for flour, beans, potatoes, carrots and squashes that store well enough to simply be left in the basement for the winter, beets and fruits we pickle, tons of red sauce and tomatoes for canning, and a house full of other things. We also gather lots of wild blueberries and pick tons of blackberries at my parent's place in Red Wing. At the end of each summer we take a few deer at my parents' place, too, and that tops off our freezers. And so it is every year, with certain differences depending on circumstances like weather and life changes, but we adjust and adapt our gardens and our lives as best we can to keep bringing in the harvest every fall and continue on our journey of living a healthy, happy, fulfilling lifestyle of self-sufficiency.
Every summer we try growing more. One of the gardens we started is a large garden at a friend's home west of us. Over the course of the first summer they took great interest in it, and how much it produced with fairly minimal care. I sat down with them the following winter, and plotted out what they would like to do the next year, which involved doubling the regular part of the garden, and doing more than an acre in flour and flint corn. We have been doing a large joint-family garden with them every year since, which has expanded into growing feed for their flock of chickens as well.
Our food bill, pretty consistently, has been 4 gallons of milk, 2 pounds of butter, and about 18 eggs a week. At the end of 2012, that was $12 a week. Now, at the beginning of 2015, it runs close to $25 for the same things. We cannot insulate ourselves from all inflation, but at least on food we can live without what we would otherwise have to buy.
We are greatly looking forward to a lifetime of staying off the food grid and enjoying our time outside while teaching our children how to live life the way we see fit, and we're happy to share the whole experience with anyone who wants to tag along!
Tom, Patti, Phoebe, Nell and Claire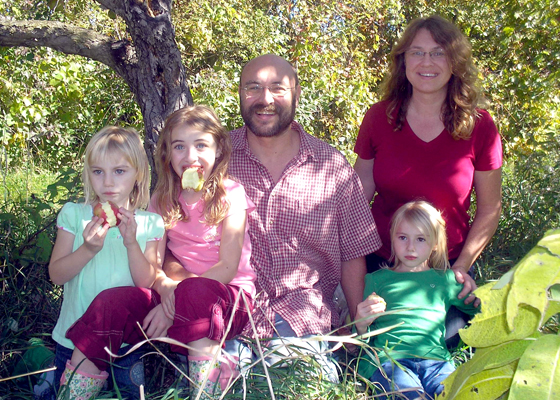 P.S. Since I first created this blog, when we called our little endeavor, "Three Daughters Farm," we had another little girl, Violet, born in 2012. So, we have become, "Four Daughters Farm." We changed the name, but still use the old threedaughtersfarm.com URL.